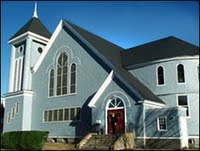 Where the Christ of Scripture is Preached and His People are Discipled in Historic Christianity.
95 Brook St. Manchester, NH 03103
Tele: 603-644-8435
Sunday Worship: 10:30 AM and 6:00 PM
Sunday School: 9:15 (Sunday after Labor Day thru 2nd Sunday in June)
Morning Service Child Care is provided for children 3 and under.
We are committed to bringing glory to God through the witness of His Son the Lord Jesus Christ. Through His embassy, the Church, He invites sinners to enjoy a complete salvation from sin and death through His historic death and resurrection. We invite those from every background to explore the riches of His Word the Bible with us. We welcome all who wish to investigate the claims of Christianity.
"All that the Father gives me will come to me, and whoever comes to me I will never cast out." – John 6:37